biblioteca de egiptología asade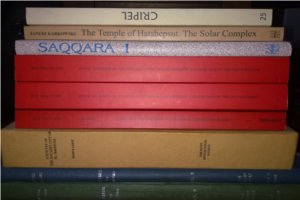 Libros de Egiptología en la Biblioteca ASADE
A - C D - F G - K L - O P - S T - V W - Z
Walker, Martín. La Maldición de los Faraones.1991.Edicomunicación, S.A.

Walker, Martín. Historia del Antiguo Egipto.1999. Edimat Libros, S.A

Walter B. Emery. Archaic Egypt. 1991. Penguin Bokss, Ltd.

Watson, P. "Egyptian Pyramids and Mastaba Tombs". Shire Publications, Ltd.1987. ISBN: 0-85263-853-1

Weeks, John. Las Pirámides.1990. Ediciones Akal, S.A. ISBN: 84-7600-517-2

Weeks, Kent. El Valle de los Reyes. Las Tumbas y los Templos Funerarios de Tebas. 2002. Ediciones
Librería Universitaria de Barcelona, S.L. ISBN: 84-89978-35-2.

Weeks, Kent. La Tumba Perdida. El descubrimiento de la tumba de los hijos de Ramsés II. 1999.
Península Atalaya. ISBN: 84-8307-215-7.

Weeks, . KV 5. A Preliminary Report on the Excavation of the Tomb of the sons of Rameses II in the
Valley of the Kings

Weeks K, ed. Egyptology and the Social Sciences. Cairo: The American University in Cairo Press, 1979.

Welsby, Derek A. The Kingdom of Kush. The Napatan and Meroitic Empires. 2002. The British Museum
Press. ISBN: 0-7141-1951-2

Wild, H. La Tombe de Néfer-Hotep (I) et Neb-Néfer á Deir El Médina [Nº 6] et Autres Documents Les
Concernant. Vol. II. Láminas. IFAO. 1979.

Wildung, Dietrich. Egipto: De la Prehistoria a los Romanos (Inglés).1998 Taschen. ISBN: 3-8228-7562-7

Wilkinson, Richard H. Cómo Leer el Arte Egipcio. Guía de Jeroglíficos del Antiguo Egipto. 1995.
Editorial Crítica. ISBN: 84-7423-886-2.

Wilkinson, Richard H. Los Templos del Antiguo Egipto. 2002. Ediciones Destino, S.A. ISBN: 84-233-
3417-1.

Wilkinson, R.H. "The Complete Gods and Godesses of Ancient Egypt". Thames and Hudson. 2003. ISBN: 0-
500-05120-8

Wilkinson, Toby A. H. Early Dynastic Egypt. 2001. Routledge. ISBN: 0-415-18633-1/6

Wilkinson, Toby A. H. Genesis of the Pharaohs. 2003. Thames & Hudson, Ltd., London. ISBN: 0-500-
05122-

Wilson, Penelope. Símbolos Sagrados. Cómo leer los Jeroglíficos Egipcios. Ed. Crítica. 2004. ISBN:
84-8432-511-3.

Woolley, L. Ur, la Ciudad de los Caldeos.Fondo de Cultura Económica. 2003. ISBN: 84-375-0537-2.

Zecchi, Marco. Geografia Religiosa del Fayyum. Dalle Origini al IV secolo a.C. Archeologia e Storia
della Civilitá Egiziana e del Vicino Oriente antico. Materiali e studi-7. Editrice La Mandragora.
2001.

Zivie-Coche, Christiane. Giza Au Premier Millenaire. 1991. Museum of Fine Arts, Boston. ISBN: 0-

Zivie-Coche, C. Sphinx. History of a Monument. Cornell University Press. 2004.